After traumatizing you all with poop stories, I'll try to make it up by offering you my favorite staple of a raw diet, almond milk.  Sure, you can buy it in a shelf stable package.  Great for storing long-term, but not really raw.  And in my quest for a decent dairy substitute for my morning cup of joe (I know, not raw either), I can't tell you how many packages of almond milk I've opened that didn't smell quite right.  So frustrating.
I've made almond milk from many different recipes, but I find that my all time favorite is made from simply almonds and water, nothing else.  If I want to sweeten it later, I'll add some honey, stevia or agave later, depending on what I mix it with.
It makes the best Chai Mate Latte.  Steep Chai Mate.  Add fresh almond milk and honey or agave.
Almond Milk

Print recipe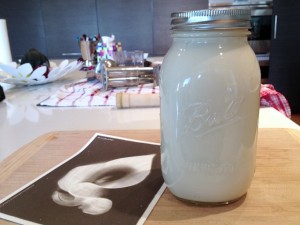 Quick and simple method to make your own almond milk. A healthy and delicious alternative to dairy.
Ingredients
1 cup Raw Almonds
4 cups Water
Optional
4 Medjool Dates
2 tablespoons Agave
2 tablespoons Honey ((not vegan))
2 tablespoons Coconut Oil
1 teaspoon Vanilla
Note
Most of the ingredients are optional.  I typically prefer a simple milk made with just almonds and water.  If I'm craving a more decadent drink, I'll add a sweetener along with some coconut oil and vanilla.  Don't forget to save the pulp to stock your pantry with homemade almond flour.
Directions
Step 1
Soak almonds in spring or filtered water about 6-8 hours. I like to start soaking them just before going to bed and make a fresh batch of milk first thing in the morning to serve with my tea or mate.
Step 2
Rinse soaked nuts. Add to Vita Mix or high speed blender with 4 cups water. All of the other add-ins are optional. For a sweet milk, add dates, agave or honey. Add coconut oil for a rich, creamy texture. Add vanilla, freshly scraped or extract for, well, because vanilla tastes wonderful. Most often, I make my almond milk with simply almonds and milk because I like to save the pulp for other recipes.
Step 3
Blend on high for a few minutes. The mixture will be somewhat grainy. Some folks like that, and if you're one of them, drink up and enjoy. If not, move on to the next step.
Step 4
With a bowl or pitcher underneath, pour milk through a nut milk bag. Hold the top closed and twist and squeeze milk through the bag.
Step 5
Drink the milk. Refrigerate the leftovers. Save the pulp (refrigerate, freeze or dehydrate) for some delicious raw recipes like macaroons or almond crackers.
Try it.  Besides planning ahead a little for the soak time, it's really quick and easy.
Share.  Drink.  Love.