I had some young Thai coconuts in the fridge waiting for a purpose, so I whipped up this amazing, raw vegan, chocolate pudding.  After setting aside some for the kids, I added a packet Starbucks Via into the mix (not so raw) and served it up with raspberries.  So decadent.  So rich.  And so stimulating.  I'm still buzzing.
Chocolate Pudding

Print recipe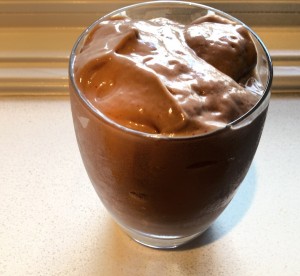 This super easy, decadent, chocolate pudding will surprise your friends when they find out it is raw, vegan, gluten and dairy free. Make extra - it will disappear fast.
Ingredients
2 Young Thai Coconuts
1/2 cup Maple Syrup
1/2 cup Agave
3/4 cups Raw Cocoa Powder
2 tablespoons Coconut Oil
1 teaspoon Vanilla
1 cup Water
Optional
Directions
Step 1
Crack open the coconuts. Save the water to drink after your next workout. Scoop out the flesh.
Step 2
Put the coconut flesh and all the remaining ingredients into a Vita Mix or other high speed blender.
Step 3
Blend on low speed for a minute before switching to high. Blend until smooth and creamy.
Step 4
Eat with gusto. Share with love.