This easy peasy raw soup is one of my go-to's for a quick lunch.  Served with a side of flax crackers, it is filling enough to last the day.  I was feeling a little blue today, so its warm, creaminess made me think of comfort food.
Inspired originally from the soups in Jennifer Cornbleet's, Raw Food Made Easy, I alter this recipe just about every time I make it.  Today, I had a zucchini and red bell pepper that needed to be used up.  Other times I've put a heavy dose of fresh garlic and a smattering of herbs – whatever I have on hand.  What is always consistent for a good raw soup base is a nice, ripe avocado, fresh squeezed lemon juice, miso, and whatever yummy veggies I happen to have on hand.
Eat. Share. Love.
Garden Comfort Soup

Print recipe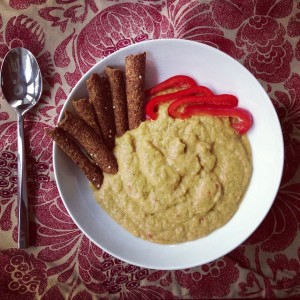 Quick and easy Garden Comfort Soup. Perfect for a rainy day.
Ingredients
1 Zucchini (Chopped)
1 Stalk Celery (Chopped)
1 Avocado (Chopped)
1/2 Red Bell Pepper (Chopped)
1 tablespoon Lemon Juice (Fresh Squeezed)
1 teaspoon Miso Paste
1 dash Salt
1 dash Ceyenne Pepper
1/2 cup Water (or more for desired consistency.)
Note
Enjoy this delicious soup warm or cold.  To heat, place bowl of soup in bottom of dehydrator for about 30 minutes, or heat gently over the stove for a few minutes.
Directions
Step 1
Throw everything into the Vita Mix or other high speed blender. Blend.
Step 2
Add more water for desired consistency.
Step 3
Serve immediately.