It's been so long, blah, blah, blah… Once out of the practice of posting, it becomes strange to jump right back in, but today is as good as any.
It's approaching noon on a glorious, Chicago summer day.  Although the ice has melted, the Blackhawks are marching across town along with a gazillion fans in thick, polyester jerseys celebrating another Stanley Cup victory.  Go Blackhawks.  My kids and I are still in our pajamas, enjoying our respective digital devices with the prospects of another wide-open and unstructured day.
We've just returned from a week long adventure in New York City to celebrate one nephew's Eighth Grade graduation, and another nephew's Eagle Scout Court of Honor.  I love visiting my family.  I don't always love visiting New York.  Since leaving about 12 years ago, I haven't had much desire to go back.  However, this trip was special.
My daughter, who was a chubby, one-year-old when we left, is now a tall, lanky, teen who is super excited about seeing "the city".  Eye-roll.  My approach was, "What is so special about NY?  We have everything right here, at home in Chicago without all the congestion, garbage and stink."
Her turn to eye-roll.   "But Mom, New York is the center of everything!"  I had to chuckle, because I once believed that.  She is about the same age as I was when I first visited New York City.  Because of her enthusiasm, I made certain to chisel out time just for her and Manhattan – a brief, glorious and exhausting, one-day, mother-daughter tour.
The itinerary was simple, she wanted to see the Guggenheim.  She'd seen it in movies, read about it in books, and was dying to experience Frank Lloyd Wright's temple to the arts.  She could have cared less about the art, it was the building she longed to experience.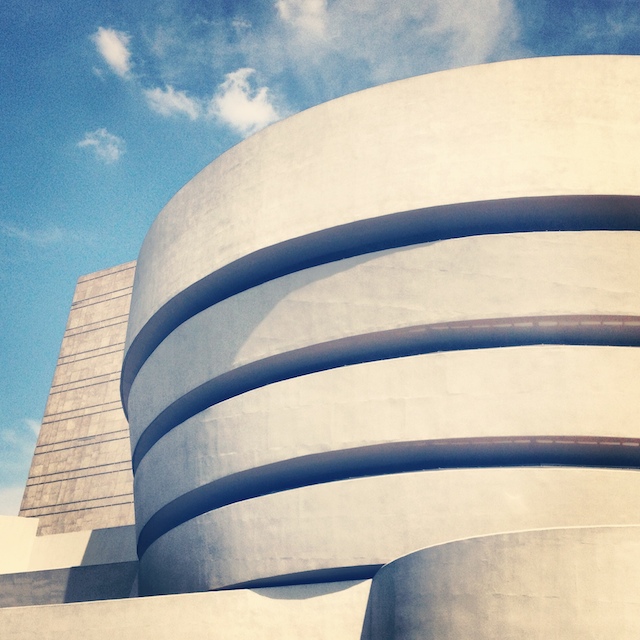 Well, we didn't exactly get the full experience as the entire interior has been altered as one piece of work by space and lighting artist, James Turrell.  It was lovely, but not an earth shattering experience.  It was not at all unlike sitting in my son's fort-under-the-stairs as a strand of Ikea LED lights gradually change colors.  There, that's it!  After 12 years in the Midwest, I've become the ignorant art observer to shout out, "That's it?!?"  The paintings were pushed to the galleries and the otherwise gorgeous, spiraling ramp was encase in a white screen, creating a claustrophobic, tunnel effect.
After reading many breathtaking reviews about the show, my daughter and I waited nearly an hour in line to get into a gallery dedicated to his work.  Hmmm, one piece.  We entered with about 15 people.  My feet were sooo sore because I've lost my NY edge and wore cute flats instead of sensible shoes.  The gallery was dark.  On the far wall was painted a grey rectangle with two dim lights on the side walls.  In the dark, with this small band of strangers, awkwardly shifting around, and one security guard, my daughter whispered to me, "is something supposed to happen?"  Immediately I thought of the Emperor's New Clothes when the child exclaims, "But he's naked!"
We were the first to leave, rather quickly, giggling like school girls.
I read later that the rectangle could be an illuminated hole in the wall.  Drat!  I could have put my hand through.  That would have been a totally different experience.  Except that security guard looked rather intimidating, especially after being accosted by guards every moment my hand touched my iPhone – No Photos!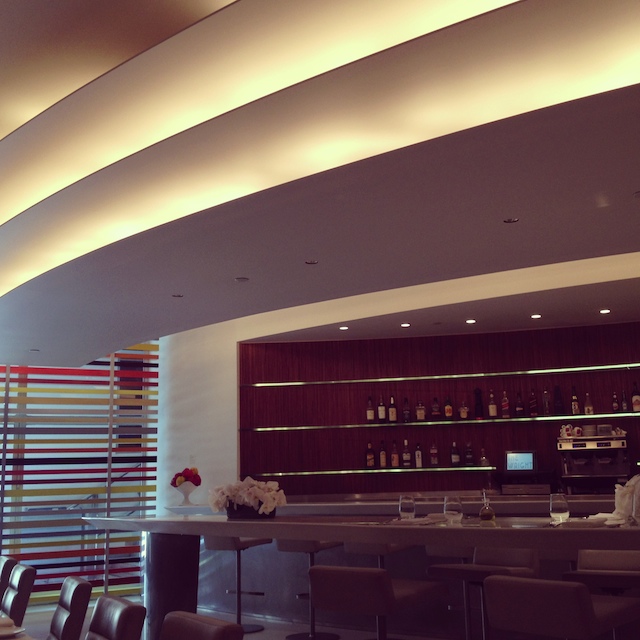 To complete our completely ridiculous, New York City, I-don't-get-it Art Scene, we met my lovely SIL, Mara (she's not ridiculous), at The Wright for lunch.  It was heavenly to get off our feet, sit in an elegant, air conditioned, beautifully designed, museum cafe.  I had the Spring Vegetables with poached egg.  Mara had the Heirloom Yellow & Red Gazpacho.  My girl had the Filet of Beef.  It came out and she gasped, "The plate, it's so big.  And look at this tiny piece of meat!"  Yes, it was about 1 oz of meat arranged carefully with a few teensy carrots on a bed of green goop.  Twenty-eight dollars.  Yep.  Gotta love New York.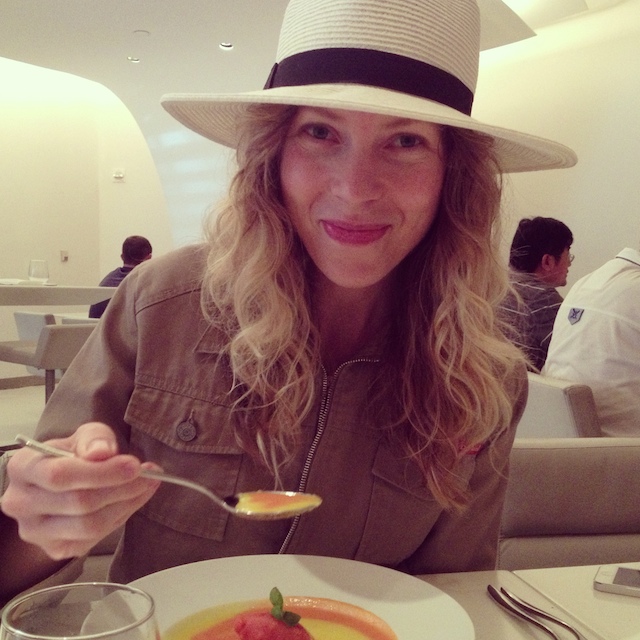 The rest of the day was a whirlwind.  We cabbed it over to MoMA to see the Rain Room.  The lines were already closed for the day (up to a 4-hour wait!!!), but we were able to enter with ease to walk through as an observer.  Oooh, this was cool.  I hope it comes to Chicago.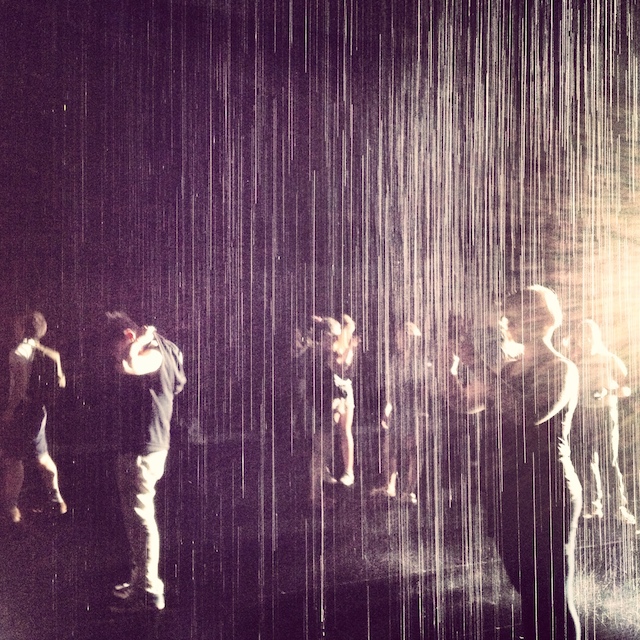 I thought I'd have to drag my art-averse kid through the galleries at MoMA, but to my surprise, she delighted in all we saw there.  From Le Corbusier's designs from the 30's (They look so Modern!!) to Claes Oldenburg's large, soft sculptures (Pie!), she bounced back and forth to whatever grabbed her eye in the moment.  It was thrilling to me to see her mind wide open to all the possibilities.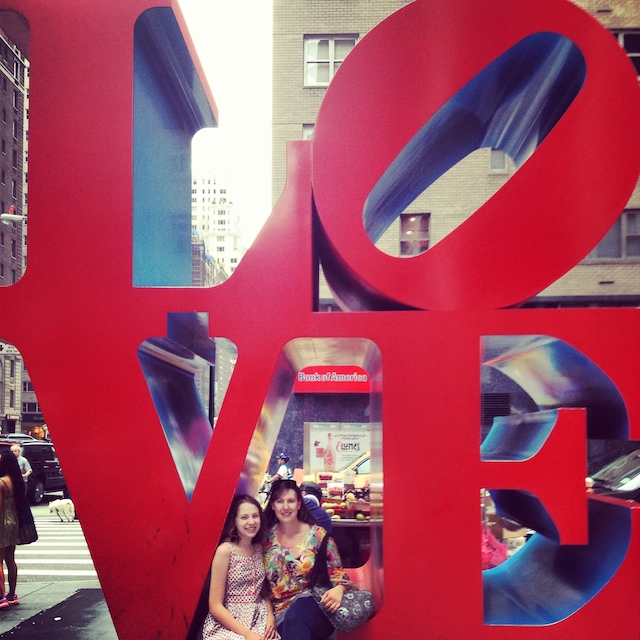 Oh, I love this girl.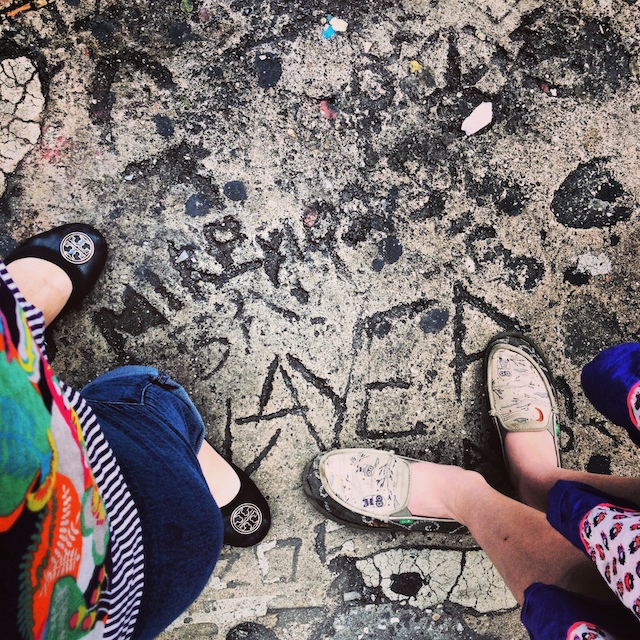 Our feet were really killing us both by then, so a decision had to be made.  Central Park vs Grand Central Station.  Easy for me, Grand Central was towards home.  We made a slight detour through Bryant Park and were treated to quite a spectacle.  Throngs of people bordered the lawn, that was completely empty.  Suddenly, at 5 o'clock on the dot, an announcement was made and hundreds of screaming people ran at once, with their blankets as banners to stake their territory.  Once declared, they all jumped up and down shouting cheers.  ???  It was all in fun to stake out a good viewing spot to see Invasion of the Body Snatchers at 9pm later that evening.  My girl imagined how much she looks forward to doing this when she lives in New York.  (Mom gasp – so far away!  I'm looking for a small condo for me, now.)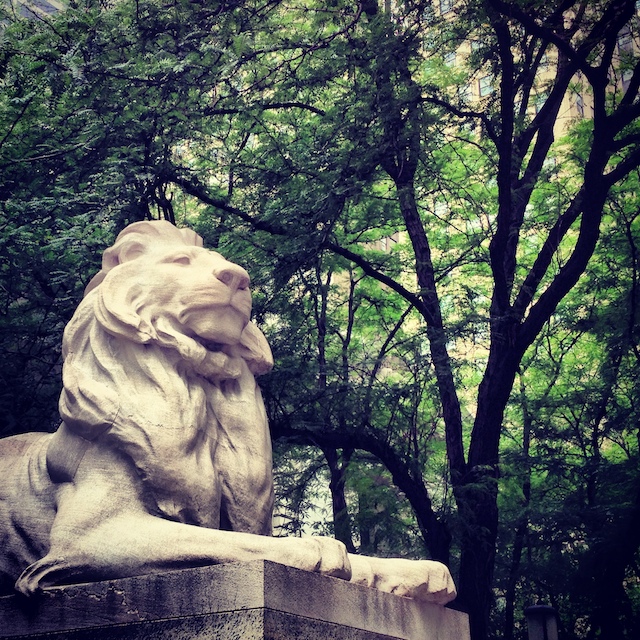 Finally, in Grand Central.  She exclaims how taking the trains are so much more fun than a cab.  Ughh!  It's so crazy how age has caught up to me.  Walking through the station I reminisced how the last time I walked these halls, I was hugely pregnant with her (very, very huge) with incredibly sore feet (plantar fasciitis – ouch) .  I walked through Grand Central nearly every day, on my way to work, during my pregnancy with that girl, up until the day she was born (almost).  Look at her, 13 years later!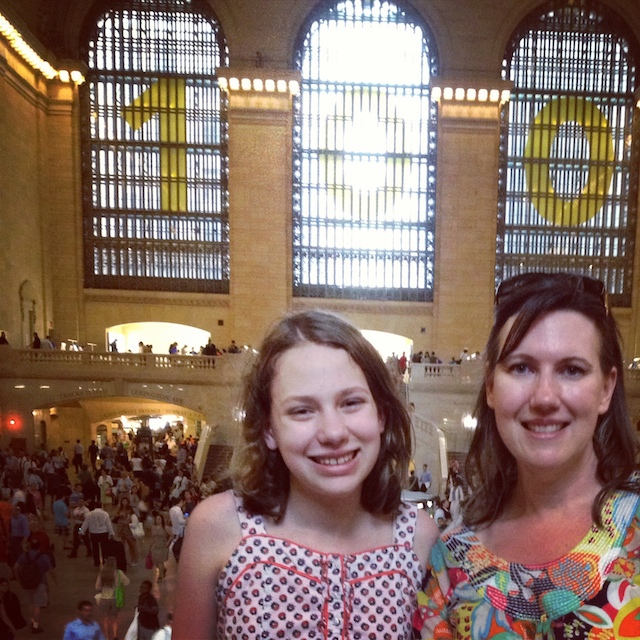 Wait a minute, while I pick up my exploding heart from the keyboard.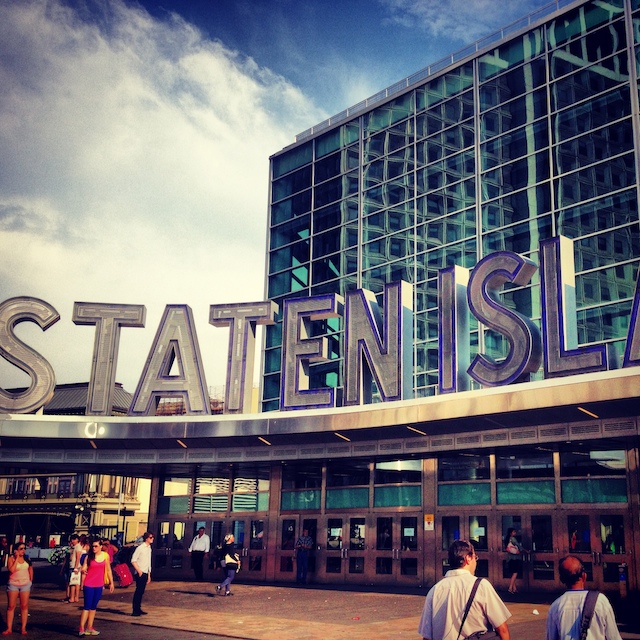 Never more grateful to see this sign as we made our way back to my sister's house.  The Staten Island Ferry, still the best ride in town.  We sat on the upper deck, this time facing the ocean, letting the wind cool us as Manhattan receded into the distance.
What a privilege to sneak away with my daughter to share what I had once imagined was the center of the universe.  I will admit – it was fun to be a tourist for a day.