My last banana bread post was based on a whole lotta estimates, so I fixed up a batch and took care with the measurements so I could share them with you all (five or so readers).  By the way, anyone notice how efficient the Akismet plugin is on Word Press.  So efficient that my statistics dropped to almost nil while Akismet so studiously blocks spammers.  I don't really want a bunch of spam traffic, but wouldn't it be nice to have some traffic.  Perhaps I should post more.  Or go back to Blogger and live with a false sense of traffic.
Well, here it is, my better tested banana bread recipe, which could also be considered muffins because it's easier to dehydrate them in small mounds opposed to a flat bread style.  Don't let the dehydrator scare you, if you don't have one, try them in the oven at the lowest setting and open the door a crack.  Better even if your oven is convection.  Best with a dehydrator, or like mine, I have a dehydrator setting on the oven.  Just plan for about 24-36 hours to dehydrate.
Raw Vegan Banana Bread

Print recipe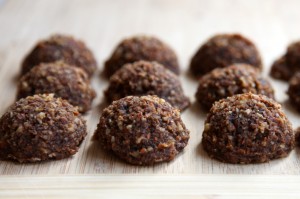 This raw vegan treat is a great, healthy substitute for good old fashioned banana bread.
Ingredients
2 cups Raw Almonds (Can substitute walnuts or pecans.)
1 cup Carrots (Pureed, about 4)
1 cup Apples (Pureed, about 2-3)
1 cup Flax Seed Meal
3-4 Ripe Bananas
Directions
Step 1
In food processor, grind almonds to a powder. Put in large mixing bowl.
Step 2
Puree carrot chunks in processor. Add to bowl.
Step 3
Puree apple chunks in processor. Add to bowl.
Step 4
Add flax meal. Or grind flax seeds in coffee grinder or high speed blender.
Step 5
Mash bananas. Add to bowl.
Step 6
Add agave and mix mixture with hands or large spoon.
Step 7
Scoop mixture onto teflex sheets and dehydrate for about 24 hours. I use an ice cream scoop to make nice, uniform balls. If the dough is too wet to hold a form, add more flax meal to thicken or additional ground nuts.